Turning Ideas into Gold: Managers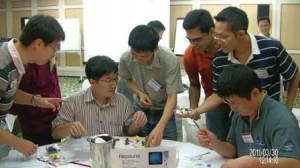 Workshop Description
Consider these scenarios:
You are a manager and you have a great idea to lead your department through dramatic growth and to conquer the market. How are you going to convince your team to fly together with you?
Recession is round the corner. You have tried various ways to reduce cost and improve profit margin. You need to re-invent and to break out of current mindset so as to break out of this recession.
You have worked hard over the years to improve your operations. You reach a limit where operational efficiency can no longer be improved to tide you over the next 12 months. What else must you do?
Your competitors seem to edge over you and are rapidly gathering momentum. You have done all the right things. What else must you do?
If these scenarios are familiar and close to your heart, then this course is for you.
This workshop is designed for the management team to lead their team from Innovation Statement phase to Investment Decision.
It covers all the essential phases in the Wheel of Innovation, presented from the management perspectives and with emphasis on the formulation of Innovation Statement and on making Investment Decisions.
This dynamic, fun and motivational course will teach you how to:
Craft an inspirational Innovation Statement

Align innovation to your corporate mission, goals and objectives

Lead your team to generate 1000 ideas in 28 minutes

Systematically select the best of the best ideas out of the 1000 generated

Understand the various perspectives and criteria to make an investment decision

Lead your team to break out of your box, to innovate and reinvent, in thoughts, dreams and actions
Workshop Content
Introduction to Creativity and Innovation

The Wheel of Innovation

The Innovative Mindset

Formulation of Innovation Statements in alignment to mission, goals and objectives

Ideas Generation Techniques

Ideas Selection Technique: Perspective-Criteria Matrix

Incubation Technique – P.E.N.S.

Making Innovation Investment Decisions

Propagating Innovations throughout the organization
Intended Audience:
CEO, CIO, CTO Senior and general management, Directors, corporate planners, sales and marketing managers, business managers and any manager responsible to lead the organization in innovation.
Workshop Methodology
This interactive workshop will be conducted with a good blend of instruction, discussions and role-plays. Participants are encouraged to bring their real-life goals, dreams and problems to the class for discussions and ideas generation.
Workshop Duration:
2 Days
Or 3 days (with additional Selling Ideas Workshop)